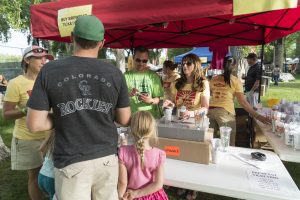 Q: Do I need tickets?
A: If you want to enjoy the beer, yes you do! We do welcome everyone, including kids and non-drinkers! To be served beer, you must purchase a ticket, and you must have a wristband. No one will be served beer without a wristband. You will get your wristband at the Brewfest gates only after you present your ticket and show your valid state issued photo ID.
Q: How do I get tickets?
A: Tickets will be available at early bird rates online and at the Lander Chamber Visitor Center & Business Complex at 100 N. 1st Street. Tickets can also be purchased the day of the event at Brewfest gates. Brewfest accepts credit cards and cash.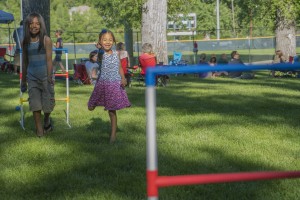 Q: What are festival times?
A: Friday 5-9pm and Saturday 2-7pm.
Q: Can I bring the kids?
A: Yes! While the beer drinking is for ticket holders, everyone is allowed at the Park.
Q: Can I bring my own beer glass?
A: No. Please leave all non-Brewfest drinking vessels at home. Brewers will only pour into Brewfest plastic cups (issued to all ticket holders) or pint glasses (available for purchase at entry).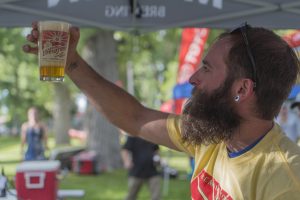 Q: Where there be food there?
A: Yes. We prioritize high quality and diverse food vendors from across Fremont County and the state of Wyoming. Come hungry!
Q: Are pets allowed?
A: No. Your Pets can be hurt by the vast crowd of people at Brewfest. Brewfest can see more than 2,500 people in City Park. Leave your pets at home.
Q: Parking?
A: For locals we recommend walking or biking. If you will be driving, there will be some parking spots in City Park itself, with overflow parking available along Fremont, 3rd, and other adjacent streets. Please be respectful of residents when you park.
Q: What if it rains or snows?
A: Be prepared with appropriate clothing. A few Brewfests have been chilly and wet, but rain or snow, Lander Brewfest will go on. All ticket sales are final.
Q: Can the mountain altitude and dry climate affect me?
A: Absolutely. Lander is more than a mile high, situated where Wyoming's high desert meets the Wind River Mountains. We are high and dry, and the sun is intense. We strongly encourage you to remain hydrated — with water.
Q: How do I get one of those nifty pint glasses?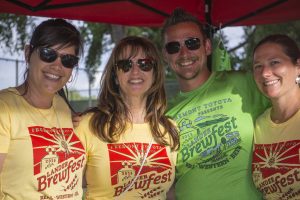 A: You can purchase a pint glass when you get your tickets.
Q: What if I cannot drive or bike home?
A: If you have had too much to drink, please do not drive or bike home! Brewfest provides a Designated Driver Shuttle service. The shuttle will pick up and drop off folks from Lander hotels during Brewfest. See signs at Brewfest for more information.
REMEMBER: Keep Brewfest safe and fun for everyone — please drink responsibly!