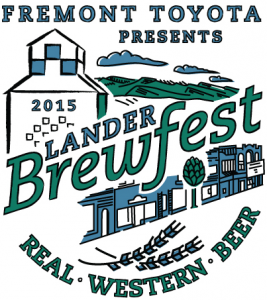 Back by popular demand is the 12th Annual Lander Brewfest featuring 20 breweries, local vendors, rockin' music, and all-around great folks for a two-day brew tasting and epic taste-bud hop-dueling competition. 
When: June 12 &13, 2015
Friday (5-9pm) and Saturday (2-7pm)
Where: Lander City Park, 405 Fremont Street
Why: Because it is going to be awesome. Again.
Tickets: Pre-purchase tickets to save money and time OR buy at the event.
Admission: This year the Lander Brewfest is open to all ages, non-drinkers, and families free of charge. In order to drink alcohol, participants can purchase passes and 2015 souvenir mugs at our Ticket Tent with a valid photo ID indicating that you are 21 years and older. Tickets can also be purchased online and picked up at the Will Call Tent to save money and time. No pets, please!