CHEERS! WE'RE GOING ONTO 16 YEARS! That's right, the 2018 Fremont Toyota Lander Brewfest will be the 16th annual event, scheduled  for Friday, June 8 and Saturday, June 9.  Please keep checking back as we update and release information on this not-to-be-missed Lander event!
In 2017, Brewfest was located at North Side Park (note this change in location, due to high water!!).  Lots of fun was had by all.  Please visit our Awards page for an updated list of our 2017 Award winners.  Otherwise, please support and thank our sponsors with your patronage… and see you next year!
2017: Please note that we have moved location for this year.  North Side Park is located between 7th and 8th and Jefferson St. There will be plenty of parking!  Click HERE for a map of parking at the site.  We will also be offering a free shuttle service from City Park (if open) to the festival and back.  You can find the phone number at the Lions Shelter in City Park.
This year we are anticipating 28+ craft breweries serving up 80+ beers from all around the Rocky Mountain West as well as three bands, excellent food, fun and games for the whole family.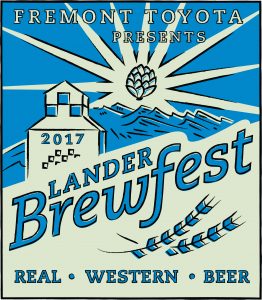 Tickets: Tickets will be available for pre-purchased online or at the Lander Chamber Office starting in April, 2018. Tickets can also be bought at the gates both days.
Admission: The Lander Brewfest is open to all ages, non-drinkers, and families free of charge. In order to drink alcohol, participants can purchase passes and souvenir glasses at our Ticket Tent with a valid photo ID indicating that you are 21 years and older. Tickets can also be pre-purchased online to save money and time. No pets, please!
The Lander Brewfest is put together by the Lander Chamber of Commerce and thanks to our Title Sponsor Fremont Toyota and other sponsoring organizations.